ELINOPTO E106-5 A/B
Optically Clear, Two Component Epoxy Adhesive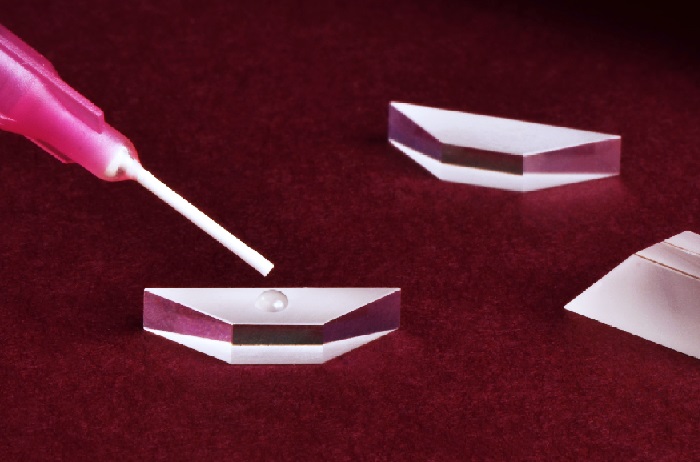 Key Features
● Optical clarity,Bonding of transparent materials
● Long pot-life,Ease of use and less waste
● General purpose,Bonds well to glass, metal and plastic substrates
Discuss your application Request a Technical Data Sheet Request an MSDS
Product Description
ELINOPTO E106-5 A/B is an optically clear,low viscosity, high impact epoxy adhesive developed for bonding and small volume potting of plastic or glass optical fibers, lenses, and prisms, LED displays, and other optical components. It is recommended for laminating, bonding, and sealing applications where excellent wetting, good pot life and improved impact strength properties are required. This two part adhesive is easily mixed and cured at room temperature, and develops strong, tough bonds to glass and glass fibers, ceramics, many metals, and most rigid plastics. ELINOPTO E106-5 bonds offer resistance to mechanical impact and thermal shock, and are also resistant to weather, water, gases and vapors, petroleum products, salts,and mild acids and alkalis.

Applications
LINOPTO E106-5 is designed for bonding transparent materials such as glass and where a thin glue line is desired.
Fiber optic adhesive suggested applications: Sealing fiber into ferrules, transmitting light in the optical pathway; Fiber component packaging; adhesive for active alignment of optics, environmental seal of opto-package, V-groove arrays.
Instructions For Use
Thoroughly read the information concerning health and safety contained in this bulletin before using. Observe all precautionary statements that appear on the product label and/or
contained in individual Material Safety Data Sheets (MSDS).
To ensure the long term performance of the bonded assembly, complete cleaning of the substrates should be performed to remove contamination such as oxide layers, dust, moisture, salt, and oils which can cause poor adhesion or corrosion in a bonded part. For information on proper substrate preparation, refer to the reprint "Good Adhesive Bonding Starts With Surface Preparation" available from E-Linking.
Accurately weigh resin and hardener into a clean container in the recommended ratio. Weighing apparatus having an accuracy in proportion to the amounts being weighed should be used.
Blend components by hand, using a kneading motion, for 2-3 minutes. Scrape the bottom and sides of the mixing container frequently to produce a uniform mixture. If possible, power mix for an additional 2-3 minutes. Avoid high mixing speeds which could entrap excessive amounts of air or cause overheating of the mixture resulting in reduced working life.
Apply the adhesive to all surfaces to be bonded and join together. In most applications only contact pressure is required.
Packaging
| | | | | | |
| --- | --- | --- | --- | --- | --- |
| | | | | | |
| jars | | | | | |
Request Information
Discuss your application Request a Technical Data Sheet Request an MSDS
Products
Our

Latest Product
Specially formulated one com...

Two component epoxies featur...