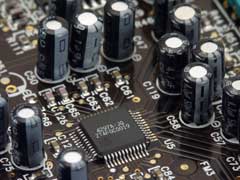 E-linking offers custom formulations to meet the rigorous needs of the electronic industry.Formulations are available to meet the evolving needs of the electronic industry. Specific grades are available for:
‍‍• Printed Circuit Board Adhesives

• Semiconductor Adhesives
‍ Products include:‍
• Conformal Coatings

• Die Attach Adhesives

• Glob Tops

• Lid Sealing

• Surface Mount Adhesives

• Underfill Encapsulants‍‍
E-linking Electronic Grade Epoxies Feature Exceptional Performance Properties
Products are easy to apply and available for use in convenient applicators (including premixed and frozen syringes for two component epoxy systems). Properties of specific grades include:
High bond strength to similar and dissimilar substrates

Low stress

High/low temperature serviceability

Fast cures

Resistance to water and many chemicals

Low coefficient of thermal expansion

E-linking is a member of the International Microelectronics and Packaging Society.

E-linking is a member of MEPTEC: Microelectronics Packaging & Test Engineering Council.

E-linking is a member of the Surface Mount Technology Association.