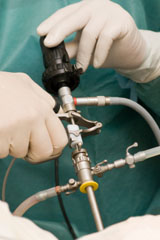 E-linking medical adhesives are used in critical applications ranging from diagnostic instruments to handheld surgical devices.One and two component systems are designed to meet the needs of medical device manufacturers. These products offer high reliability and can withstand difficult conditions encountered in use. They cure at ambient or elevated temperatures or upon exposure to UV light.
Learn more about our adhesive systems for the medical industry:
• Diagnostic Equipment

• Disposable and Reusable Devices

• Medical Electronics

• Needle Bonding
Key Benefits of E-linking Medical Adhesive Systems
Biocompatibility—USP Class VI approved

Resistance to sterilization—select compounds resist autoclaving, radiation, ethylene oxide and cold sterilants

High bond strength to similar and dissimilar substrates

Solvent free

Fast curing systems

Gap filling

Easily automated

Optically clear formulations

Available in a range of hardnesses

Thermal stability
Special compounds can withstand multiple sterilization cycles.