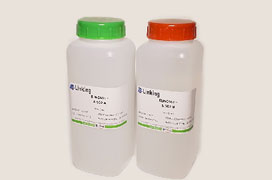 Because of their incredible flexibility
E-linking offers E-linking® two part silicone systems for use in the assembly of medical, electrical, electronic, optical and other devices. These products provide excellent resistance to vibration, shock, heat and corrosion.

Both addition (platinum catalyzed) and condensation (tin catalyzed) cured two part silicones are available in different sized units. Where cure inhibition is an issue, condensation cured silicones can be utilized.
Special Properties of Two Component Silicones
Two component silicones exhibit strong adhesion to glass, plastics, metals, rubbers and other substrates. Specific grades offer:
Resistance to humidity and extreme temperatures

Superior flexibility

Electrical insulation

Thermal conductivity

Electrical conductivity
Certifications for E-linking® Two Component Silicone Compounds
Many of E-linking E-linking® two part silicones are approved for use in various specialty applications and industries. Additionally, they meet the following certifications:
USP Class VI for biocompatibility

ISO 10993-5 for cytoxicity
Learn more about our medical grade silicones
Applications for E-linking Two Part Silicone Adhesives
E-linking two part silicone adhesives provide high performance and cost effective solutions for a wide range of application requirements. Some of the most common include:
Heat sink attachment

Board coating

Potting modules

Lid and housing seals

LED assembly

Bonding and sealing appliances

Component attachment