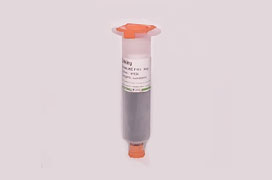 E-linking one component epoxies offer easy application, increase productivity and eliminate waste.Specially formulated one component epoxy systems feature outstanding performance properties, long-term durability and easy application. These no mix compounds cure quickly at moderate temperatures. They are designed to increase productivity and eliminate waste.




Special Certifications for One Part Epoxy Compounds
Many of E-linkings one part adhesives, sealants and coatings are approved for use in various applications and industries. Additionally, specific grades meet the following certifications:
NASA low outgassing

USP Class VI for biocompatibility

Halogen free
Performance Properties
As with all products in the E-linking family, specific grades vary in viscosity, cure speed, chemical resistance and electrical properties, but can be custom formulated to meet your application needs.