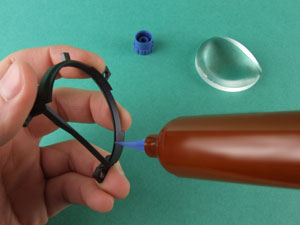 E-LINKING UV curable adhesives have exceptional bond strength between similar and dissimilar substrates.
High performance one part, no mix UV curable adhesives feature rapid cure speeds, high bond strength and easy application. A wide range of formulations are available to meet specific application requirements.




New Developments in UV Curable Adhesive Systems
Extensive research and development has resulted in new formulations with enhanced properties. The most noteworthy are:
USP Class VI approved compounds

NASA low outgassing grades

Nanosilica filled systems
E-LINKING ultraviolet curable systems are presently employed in the automotive, electronic, medical, optical, electro-optical, appliance, fiber-optic and general assembly applications.