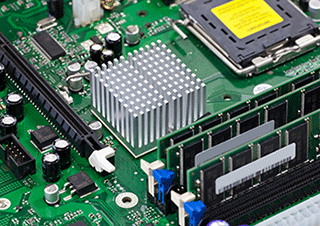 E-Linking's thermally conductive formulations offer high bond strength and outstanding heat dissipation properties.E-Linking's thermally conductive materials offer superior heat dissipation for a wide range of electronic applications. Both one and two component systems are available for use. They include epoxies, silicones and elastomeric products. Special formulations designed for unusual service conditions are also available.


Performance Properties of Elastomeric Adhesives
E-Linking is at the forefront of developing thermally conductive compounds with superior performance properties for challenging electronic applications. Among the most important properties are:
Superior electrical insulation

Chemical resistance

Vibration and impact resistance

Cryogenic serviceability

NASA low outgassing approval

Halogen free
E-Linking has also developed products with enhanced heat dissipation properties that also offer electrical conductivity. Most noteworthy are nickel, silver coated nickel and silver filled products.These compounds contain a variety of fillers in different particle sizes and are designed for easy dispensing with standard application equipment.
Common Applications Featuring Thermally Conductive Adhesives
Thermally conductive formulations are used for bonding, potting and encapsulation applications in a wide variety of industries. Some specific applications include:
Heat sink bonding

Potting/encapsulating sensors

BGA die heat spreader interface

Chip scale packages

Power semiconductors