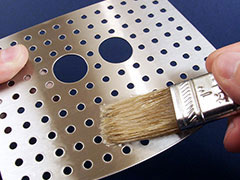 UV coatings provide outstanding scratch resistance and excellent adhesion to plastic substrates.E-linking supplies a line of UV curable coatings that offer superior scratch resistance. These hardcoats are designed to protect optically clear plastic substrates. They feature high resistance to common chemicals, staining and long-term durability. Products have superior light transmission properties, low haze and excellent weatherability.
Using UV Curable Scratch Resistant Coatings with Plastics
These compounds exhibit fast cures and superior adhesion to:
Polycarbonates

Polymethylmethacrylates

Polyvinylchlorides

Other plastic substrates
User friendly, these compounds have low viscosity, contain no solvents and cure tack free. They can be applied by:
brushing

dipping

spraying

spin coating

flow coating
These formulations are commonly applied to:
Safety glasses and visors

Automotive headlamps and fog lamp lenses

Touchscreen displayes

Membrane switches
Check out our line of abrasion resistant epoxies that protect against wear and corrosion in industrial environments.