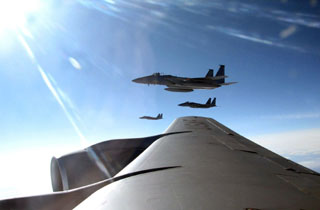 Many of our systems are NASA low outgassing approved, cryogenically serviceable and meet the requirements of UL 94V-0 testing for flame retardancy.
E-linking's Aerospace Products
E-linking compounds are employed in a wide range of applications within the aerospace industry.
Learn more:
• IC Card

• Die Attach Adhesives
High temperature resistantproperties are often required in aerospace applications.
E-linking is at the forefront of developing specialty adhesive formulations to meet the stringent specifications of the aerospace industry. Our wide range of products consists of epoxies, polyurethanes, silicones and polysulfides offered in both one and two component systems.
Many aerospace applications use composite products that are assembled using E-linking adhesives.
Specific Aerospace Applications Using E-linking Adhesive Systems
E-linkingadhesives are used in numerous aerospace applications including, but not limited to:
Flight control surface seals

Optical fiber systems

Bonding of metal and fiber reinforced composites

EMI and RFI shielding

Launch canister liners

Braking systems

Microelectronic applications

E-linking is a member of the Society for the Advancement of Material & Process Engineering.