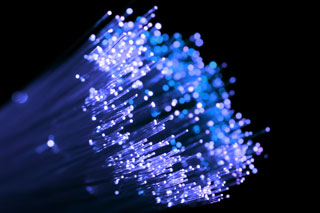 E-linking's fiber optic compounds are available in a range of refractive indices and are easy to apply.E-linking offers an extensive line of epoxies and UV curing systems for use in fiber optics devices. These products provide superior bonding strength and excellent optical clarity. E-linking's adhesives contain no potentially objectionable contaminants and exhibit excellent resistance to corrosion and adverse environmental conditions.
Applications of E-linking's Fiber Optics Adhesive Systems
E-linking fiber optics compounds are used as adhesives, sealants and   coatings in different fiber optics devices. Common applications include:
  • Sealing fibers into ferrules
  • Bonding optical fibers into connectors
  • Potting fiber bundles
  • Bonding fiber optic bundles into ferrules
  • Splices and field repairs
  • V-groove array assemblies
Advantages and Important Adhesive Selection Criteria for Fiber Optic Systems
  • Long pot life
  • High glass transition temperature
  • NASA low outgassing approved
  • Low shrinkage
  • Superior optical transmission
  • 1,000 hours of exposure to 85°F/85% humidity
  • Dual Cure (UV/heat curable) systems
Environmentally friendly, solvent free systems
Most Popular Products for Fiber Optics
ELINOPTO E203

loading

ELINOPTO A209

UV curable ashesive and sealant. Low CTE, low stress; Excellent adhesion, structural bonding to a wide variety of substrates; UV Cure, quick speed UV processing.

‍‍