ELINBOND A801
nstant Adhesive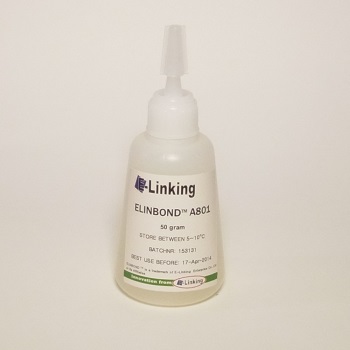 Key Features
● One component,Ease of use
● Excellent adhesion,bonding to a wide variety of substrates
● Excellent compressive/tensile strength properties,Quick speed processing
● Fast cure
Discuss your application Request a Technical Data Sheet Request an MSDS
Product Description
ELINBOND A801 is a low odor, low blooming cyanoacrylate which is specially formulated for aesthetically critical application and better working environment. It provides excellent bond strengths not only to most metal surface but also to a wide variety of plastics and rubber material.Also it does not dissolve the surfaces of styrofoams.
Applications
Under normal conditions, the atmospheric moisture initiates the curing reaction of cyanoacrylate adhesive between substrates. Although full functional strength is developed in a relatively short period, curing continues for at least 24 hours before full chemical/solvent resistance is developed.
Instructions For Use
Thoroughly read the information concerning health and safety contained in this statements that appear on the product label and/or contained in individual Material Safety Data Sheets (MSDS) To ensure the long term performance of the bonded assembly, complete cleaning of the substrates should be performed to remove contamination such as oxide layers, dust, moisture, salt, and oils which can cause poor adhesion or corrosion in a bonded part.
For information on proper substrate preparation, refer to the reprint "Good Adhesive Bonding Starts with Surface Preparation" available from E-LINKING Co., Ltd. For difficult or porous surface, try using activator. When bonding polypropylene, polyethylene, PTFE, silicone, we would recommend priming first using Primer After the primer is dried, a drop or a few drops of the adhesive is applied on the surface of a substrate to be bonded and assembled with the other substrate.
In some cases, two pieces of the substrates can be assembled first and the adhesive can be injected in between. After the correct assembly, holding the assembly with finger tip pressure in a few seconds is enough to spread the adhesive on the surfaces and to get suitable bond strengths. After 24 hours, the assembled parts can be used.
Packaging
| | | | | | |
| --- | --- | --- | --- | --- | --- |
| | | | | | |
| Cans | Double Barrel Cartridge | FlexiPak™ | Gun Applicator | Premixed & Frozen Syringe | Syringes |
Request Information
Discuss your application Request a Technical Data Sheet Request an MSDS
Products
Our

Latest Product
Specially formulated one com...

Two component epoxies featur...