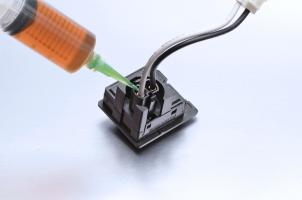 E-linking EP62-1LPSP delivers an array of strength, electrical and handling properties that are well suited for bonding, sealing, coating and encapsulation applications. With a tensile lap shear strength exceeding 2,000 psi, it bonds well to a variety of substrates including metals, composites, glass and many plastics.
This optically clear epoxy has a non-critical four to one mix ratio by weight and features an open time of 12-24 hours at ambient temperatures. EP62-1LPSP has a thin mixed viscosity of 150-300 cps, which can be further lowered by adding heat. Its low exotherm while curing allows it to be used for large encapsulations. It offers a variety of cure schedules and can be cured at temperatures as low as 60-70°C. Faster cures can be achieved at 125°C.
Featuring a glass transition temperature of greater than 125°C, EP62-1LPSP is a thermally stable system that is serviceable over the wide temperature range of -60°F to +400°F. It withstands exposure to chemicals such as water, fuels, oils, solvents, acids and bases. EP62-1LPSP is a reliable electrical insulator and has a volume resistivity over 1014 ohm-cm. This blend of high performance properties allows this product to be used in aerospace, electronic, fiber-optic, optoelectronic and specialty OEM applications.
EP62-1LPSP is available for use in standard ½ pint, pint, quart, gallon and 5 gallon kit containers. It can be applied by brush, paint roller, syringe or gun dispenser.