UV Curing Potting Compounds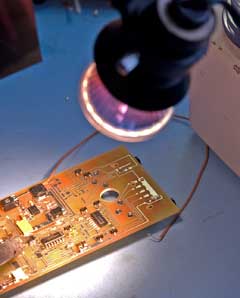 Master Bond's low viscosity UV curable potting compounds cure rapidly and are easy to apply.Fast curing, single component, no mix UV curable potting compounds offer superior electrical insulation properties. Specific grades cure up to 1/4 inch in depth. These compounds protect against moisture/chemicals, high/low temperature exposure, mechanical/thermal shock and vibration. Environmentally friendly, these products are 100% solid systems and contain no solvents.
Common Applications for Master Bond UV Curable Potting Compounds
Master Bond UV curable potting compounds have excellent bond strength to metals, ceramics and most plastics. Typical potting applications include :
  • Sensors
  • Capacitors
  • Connectors
  • Detectors
  • Inductors
  • Switches
  • Relays
Additionally, UV curable systems have "unlimited" working life, eliminate waste and can be used for tamper proofing. Grades feature toughness, optical clarity and non-yellowing properties.